Inventory Management
Control your cost and established transparency and accuracy with automated inventory management system CoreIMS.

CoreIMS Government Version provides government agencies from military to local departments full warehouse functionality that will track and manage your inventory from "cradle to grave".
Government (rather than Commercial) terminology is used as well as required DoD Forms (2062, 3161, 3645-1, & 1149) are included for issuing operations.
Available Versions of CoreIMS Inventory Management
Stand Alone Version
This version does not require to be part of a network. For more information click here.
Web-Based Version
This version is accessible through web browser (can be used as SaaS). For more information click here.
Desktop Application
This version has access via desktop icon. For more information click here.
Distributed Version
This version is used in areas where internet is not accessible at all times. For example, on a fleet of ships that needs connection to central warehouse but have limited internet accessibility. For more information click here.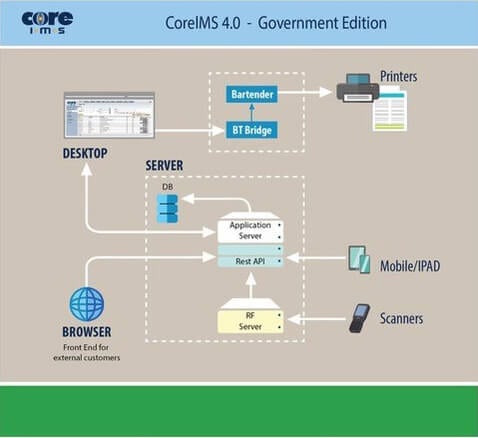 Barcode Scanning and Printing Capabilities
CoreIMS Inventory System has barcode scanning, designing and printing capabilities.
For more information on functionality, recommended hardware and requirements click here.
Features
CoreIMS Inventory System is a feature rich system of records. It provides instant real-time inventory visibility and accountability across your organization. Inventory summary reports provide management with up to the minute.
For a comprehensive list of features and functionality click here.
Customization and Enhancements
CoreIMS is an in house developed system supported by Logistics/warehousing trained programmers. Because of this, we are able to customize, enhance and develop client specific solutions. Ranging from custom reports to integrations with third party systems, to developing new functionality based on client provided requirements.
To learn more about our capabilities click here.
Case Studies
See how our clients are using CoreIMS within their organization. From Military to local Government agencies.
Click here to view our case studies.