CoreIMS 4.0 Inventory Management System
The Core Inventory Management System (CoreIMS™) is a cost-effective inventory management system that provides flexibility in supporting warehouse operations. It is designed to addresses a comprehensive set of warehouse's needs efficiently and effectively, including the management of multiple warehouses. CoreIMS is easy to install, use and operate; delivering savings typically associated with much more expensive warehouse management software through improved inventory accuracy and increased labor productivity. CoreIMS delivers real-time inventory information in support of better management practices and improved customer service.
For Custom Warehouse project we recommend CoreIMS Version 4.0 (CoreIMS 4.0). This edition is Internet/Intranet based with Specially designed, user-friendly Client Application that extremely secure and well suited for use in local or hosted environment.
All CorePartners products including off-the-shelf Inventory Management Solutions supports by barcode scanning and printing.
Main Features of CoreIMS 4.0
Multiple warehouses and locations: Each stock item in CoreIMS is associated with a location in the warehouse. CoreIMS supports any number of warehouses and locations within each warehouse.
Receiving and Shipping: Receiving and shipping operations are tracked in CoreIMS with receiving, shipping and transfer orders. During receiving CoreIMS allows user to specify attributes of the received stock as well as location (pallets and container storage is also supported). Receipts reports are generated as part of standard order processing operations and may be customized as needed. All inventory operations support serialized and non-serialized items, optional expiration and receiving dates, transaction history tracking, and user-defined custom fields. Cross Docking Feature is available. Also, CoreIMS generates and prints receiving and shipping documents.
Storing: Inventory in CoreIMS is associated with a location within a Site (physically or logically speaking). Pallet and/or container organization is supported within locations. Authorized users are allowed to change item location as well as receive (create) or ship (delete) inventory from locations. Also, users may assign status to inventory items. The ability to create and modify item status is a standard feature of inventory systems, including our solution. Individual stocks in CoreIMS may only be assigned singular attributes of location and status, so at any particular time, only one location and only one status may be assigned. Authorized users are allowed to change the location or status of inventory items. CoreIMS records all such changes in the transaction history that is readily searchable. Also authorized users may create and specify additional stock custom fields for entry and management within the system.
Physical inventory: Physical inventory operations are best implemented with the assistance of handheld devices and CoreIMS supports a large number of such devices, both wireless and tethered.
Reporting: CoreIMS reporting capabilities allow users to create reports from existing database fields. The CoreIMS reporting tool is based on Crystal Reports. Over 50 reports available. Each report contains a set of parameters that users are allowed to specify before running the report. Also, CoreIMS allows users to specify a schedule for automatic report generation and to send reports via e-mail. CoreIMS is delivered with a standard set of summary reports. Additional reports may be developed using Crystal Reports. For this project, the required set of additional reports will be clarified and developed during the customization project phase. Reports may be exported to XLS, PDF, DOC, and HTML formats.
Integration: Integration with QuickBooks, Sage50/100, Microsoft Excel, and flat file import\export is supported. Integration with other external systems may be implemented via XML data input\output.
RF/barcode: Operations with RF devices are supported along with barcode generation and label printing, including NFES barcode definitions.
CONCEPTS
User-defined UOM
Simple access control
Personal user profile
Complete transaction history
Ownership for 3PL operations
Front End.
REPORTING
Over 50 Reports available
Item availability
Receiving order status
Shipping order status
Back order status
Date and User stamped
3PL Invoice
RECEIVING
Against PO/Unexpected receipt
Partial receipts and un-receive
Receipt documents
Pallet/container labeling
Cross Docking
Return Tracking
SHIPPING
Against SO/Unexpected
Partial shipment and Un-ship
Forward pick locations
Order batching
Order Allocation
Pending shipment
BOL and packing list
Back Orders
ITEMS
Item Dashboard
Item Class/Category/Type
FPL and Preferred Location
SKU and UPC support
Assign Bill of Material (BOM)
Date and Warranty
Custom defined fields
Item Images
STORING
Cycle count per Site
Zones and Locations
Physical inventory
Adjustments
Movements
Standard and Custom Stock Statuses/Holds
Stock Custom Fields
GENERAL
Lot tracking
FIFO/FEFO
Serial number tracking
Multi-SKU pallets
Pallets/Containers
Work Orders/Kitting
REPLENISHMENT
Replenishment Level per site
Inter Warehouse transfers
Min/Max quantity per warehouse
E-mail Notifications
INTEGRATION
Intuit QuickBooks US Edition
Sage 50 US Edition
Microsoft Excel
Flat files import/export
EDI Support
BARCODING
Multiple Barcodes per Item
RF bar code scanners support
Barcode generation and label printing
MULTIPLE WAREHOUSE
Intra Warehouse Transfers including Allocation, Send and Receive Transfer Support
Architecture of Proposed Solution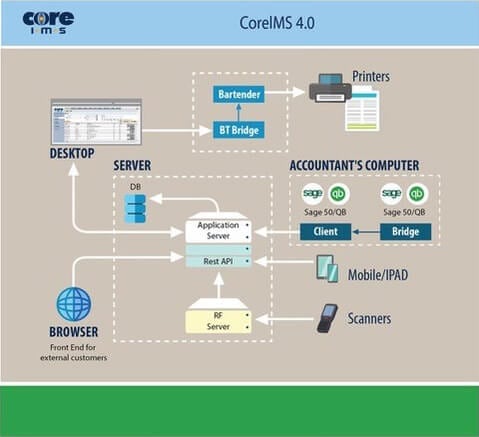 Platform Overview
CoreIMS utilizes 3-tier application architecture (Database – Web/Application Server – Client). There are several main components that may be included in a particular system configuration:
CoreIMS 4.0 Edition (CoreIMS 4.0 is an client application that provides users with the ability to perform inventory operations through the internet/intranet. This includes running various reports and tracking inventory status and conditions by means of a web browser.
CoreIMS Mobile RF operations are supported by the CoreIMS RF Server and CoreIMS RF Mobile client application. Cooperatively they provide the ability to work with CoreIMS through mobile devices and make use of the advantages associated with RF solutions.
CoreIMS reporting tools are based on Crystal Reports, so newly modified or created reports may be quickly added. All CoreIMS reports are available through the CoreIMS UI.
The CoreIMS BT Module allows for seamless work with many types of label printing equipment (supported by Seagull BarTender® label design and printing products).
The XML based integration tool provides a flexible way for future integration associated with data import/export to other agency systems.