Advantage of using accounting software with good inventory management system:
Nowadays, accounting software is an important and must have part of any organization as inventory management software for company management. Inventory management system is about knowing what you have in your warehouse and where your stock is located in real time. In the meantime, accounting software will combine all money-related functions in your organization including inventory in one place. Rather than keep everything separate, your purchase orders, sales orders, customer and vendor information, inventory count, accounts payable and receivable information are all integrated in one easy-to-access place. Accounting software, inventory management system with integration module should be a good standard for your business to grow and be profitable. CoreIMS is seamlessly integrated with Sage 50 and QuickBooks accounting systems in real time.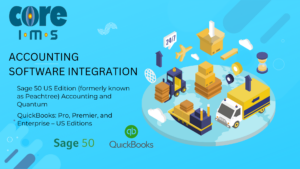 CoreIMS Accounting Bridges:
The CoreIMS Accounting Bridges allow two-way communication and data exchange between the accounting system and the CoreIMS inventory management system.
Who can use Accounting Bridges?
Companies who are running one or multiple warehouses with warehouse inventory management that need to be integrated with Sage 50, Sage 100 Edition or QuickBooks
Companies that use Sage 50, Sage 100 or QuickBooks but need a robust warehouse inventory management system.
Current CoreIMS customers who need to add Sage 50, Sage 100 or QuickBooks accounting systems.
Sage 50: (formerly known as Peachtree) Accounting and Quantum. CoreIMS focus on more features a business may need to work with their physical inventory These features include support for multiple warehouses, locations, barcode scanning and printing, FIFO/FEFO part tracking, expiration dates and kitting. CoreIMS has all of these features and many more designed to effectively address inventory operations for even the most experienced warehouse customers.
QuickBooks: provides customers with precise control and safeguarding of accounting Information. Given its focus on accounting, QuickBooks is not designed to provide real time inventory detail such as location, status, and value. CoreIMS design does provide for this type of information and much more. This includes accurate and meaningful tracking information on the receipt of goods, movement of goods between sites and locations, as well as the sale, removal, and disposal of goods.