What is a WMS (Warehouse Management System)?
Warehouse management system refers to a software system that helps to monitor and manage the day-to-day operations in a warehouse, consisting of warehousing functions, inventory functions, resource management, outbound functions, third party logistics (3PLs) and etc. This software facilitates the daily organizing, planning, directing, and controlling of available resources in the warehouse.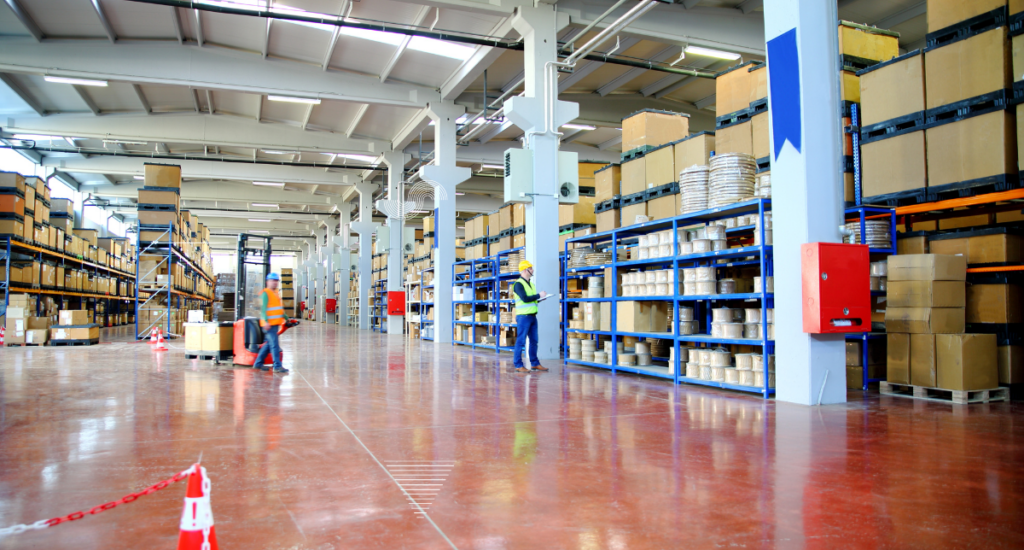 Many warehouses do not have a WMS or warehouse management system yet still achieve very high inventory accuracy and very low outbound errors. HOW? They add more order checker, pickers, and the proper paperwork to account for the warehouse activity. This is not to say that the decision was wrong because they have chosen more people to manage the warehouse operation. The biggest risk that human can cause could be the human error in the warehouse that affects customer service and warehouse operations. With the help of warehouse management system organizations can reduce human errors and increase efficiency in the warehouse in a cost-effective way.
Benefits of Warehouse management system
Reduce human errors: Human error is considered the number one issue in warehouse management. By automating the warehouse management process with the right warehouse management software, there is no risk of duplication, missed sales orders or incorrect information.
Manage inventory accurate and in real-time: A WMS has an accurate real-time inventory tracking capabilities which help you know what you have in stock and where it is located. That way, you can be less likely to make errors, like selling an item online that's no longer available or getting orders mixed up.
Multiple warehouse functionality: A WMS with multi-warehouse and location functionality can help you know what item you have in stock and where it is located. This way, you can easily transfer stock from one warehouse to another warehouse. This can enable you to quickly fulfill orders with more accuracy.
Increase inventory count speed: Without a WMS it will take more time and effort to count the inventory that can end up customer dissatisfaction and human error in the warehouse. A warehouse management system will automate the counting process and reduce time, errors, and maximize sales.
Increase employee morale: A warehouse management system can help employees do their jobs more efficiently because they know exactly where they should be and what they should be doing. This can help employees have more relaxed and less stress work environment.
Strengthen Customer and Supplier Relationships: Warehouse management system is not only benefitting the organization it can also strengthen the relationship and increase the trust level between the customer and organization. A warehouse management system reduces delivery time, fewer order inaccuracies. This way, the reputation of your business among customers and suppliers will increase.
Save money: A warehouse management system will help you save money in several ways. While using a WMS your organization does not need to hire more employees to take care of your warehouse inventory operations instead you can use a cost-effective warehouse management solution like CoreIMS. You can also save money by minimizing the human errors such as by reducing shipping costs if you don't have to resend an order to a customer.
Types of warehouse management system (WMS)
There are four basic types of warehouse management systems.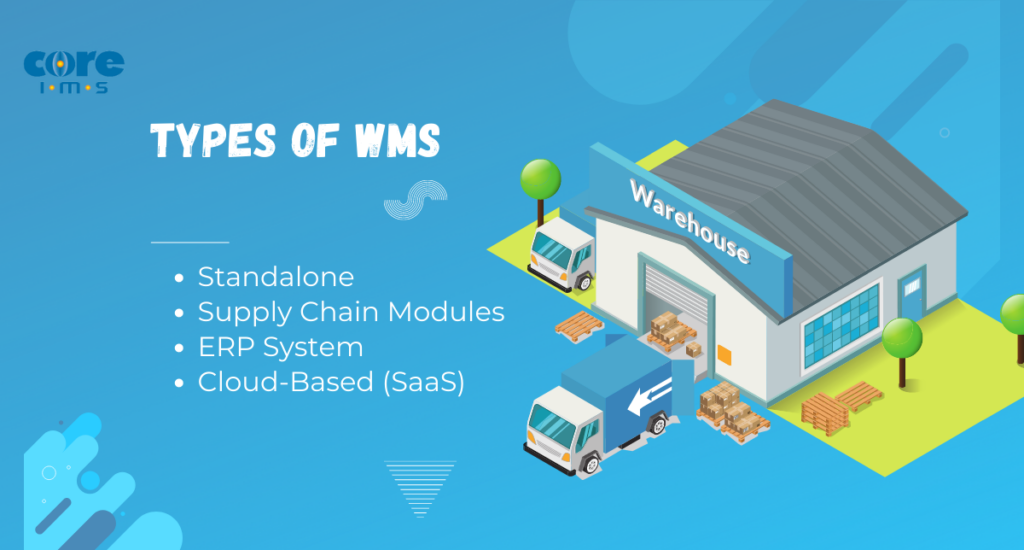 Standalone systems:
Standalone warehouse management system is a simple WMS with lower price. These types of WMS are typically on-premise systems designed for small business and businesses that do not have a large software budget. Some businesses use standalone software and then integrate it with their current software. Standalone systems typically do not feature broader supply chain functions but do contain important warehouse operations functions such as:
Receiving
Put-away
Picking
Packing
Slotting
Shipping
Cycle Counting
Expiration date tracking
Barcode Scanning
2. Supply chain modules
Integrated supply chain management (SCM) software has a broader scope than standalone system. It automates all the activities required to create and deliver a product, including inventory management, transportation and logistics. A supply chain module is used by small and medium size companies that have more complex supply chains.
3. ERP Systems: Enterprise resource planning (ERP) software is a powerful solution that combines many capabilities found in other systems. Organizations use an ERP system to collect, store, manage and interpret data from many business activities such as:
Supply Chain Planning
Accounting
Customer Relationship Management (CRM)
Human Resources
4. Cloud-based WMS
Nowadays, cloud-based systems are becoming more common, and companies are switching from traditional on-premise systems to a cloud-based solution. A cloud-based warehouse management system also called as "software-as-a-service" SaaS model is a web-based, centralized-computing model using cloud technologies.
Learn more: Click here